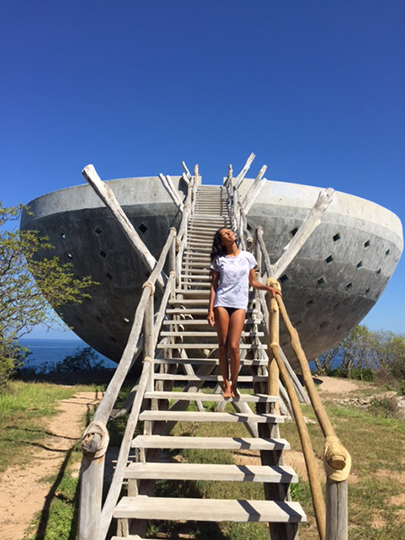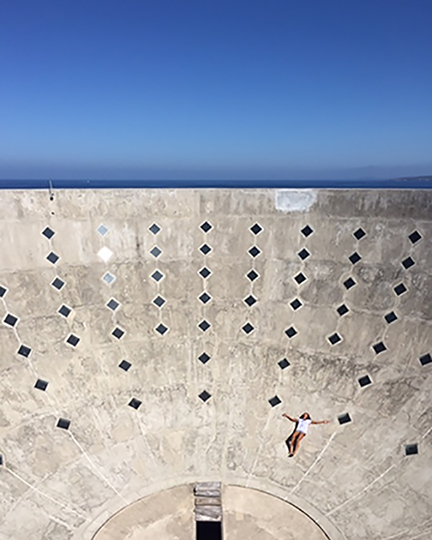 If you lived in sunny Sayulita, Mexico, you would already know her. Paola Lopez has an infectious and bright personality. She surfs religiously and owns a boutique full of art, fashion and homewares. Paola is a loved personality of her town and has been a friend of Sundry since the beginning. It only makes sense that we would ask her to be one of our brand ambassadors!

We spent a little time recently with her, wanting to know more of her background and what makes her smile so often. But first, about vacations from a woman who lives in a town most of us would love to escape to…
Describe your favorite escape. Tropical places with waves, sun, delicious seafood and fruits, locals, without telecommunication media. They're my favorite destinations because they make me feel connected with the reality that I love to live. It keeps the balance in my life.

What do you pack? I always travel light so I have room to bring back special treasures that I find on my adventures. Comfortable clothes, swimwear and a toothbrush. I travel with no expectations and everything flows amazingly.

Who do you take, and what do you do when you're there? I love to travel with my children, my boyfriend, family and friends. I really enjoy traveling by myself too, with no plans, just going and meeting new people. I like to surf, eat, hike, camp, visit boutiques, galleries or museums, watch movies, move around. Get to know the people, the place and the culture better.
So tell us a little about your history. I was born in Guadalajara México, part of a big family, all close. My parent's were farmers and we traveled the whole country together. My parents showed us every state and the whole culture of my country. That is when I discovered my passion and inspiration. I was a very active and happy girl, with a lot of energy, sports were a big part of my life. Then I fell in love with surfing. In Mexico there were just a few girls the water in those times. I escaped to the beach whenever I could for many years, to learn. We were 4 Mexican girls from Guadalajara who dreamt of quitting life in the city and moving to the paradise of waves and freedom. We learned to surf. Then I had the opportunity to live and surf in many points of the Mexican coast.
Traveling has been a passion in my life. When I was 17 I started traveling around the world on my own or visiting friends. I did a communications science degree and master degree in visual arts. I studied photography and painting. I also produced cultural radio and television programs. I have been working in programs to help sustain the indigenous cultures of my country. Now I live in Sayulita, Mexico with my lovely children, and we enjoy life together. I want them to learn and experience a simple life close to nature and to share the beauty and the cultures of the world. I have lived in Valencia, Barcelona and Cadiz Spain, and California and Florida in the USA.
And now? I do crafts, unique things, I design, etcetera. I have a boutique in my hometown. Photography with film, I love the dark room. Painting, both acrylic and watercolor. Textile designs and embroidery. I spend time with my children - we are one. I teach and learn with them, surfing, painting, gardening, beading, embroidering, hikes in the jungle, watching sunsets, playing music, singing. We don't have a schedule, we flow together during the day.

What makes you sway? I love Jazz (especially from Nigeria and Ethiopia ), Reggae (roots), Cuban and Brazilian, Classical.

Describe your style. I can wear comfortable clothes or a creative extravagant piece, just because I feel like wearing it that day! I enjoy playing with clothes. The most important thing for me is the unique the way you wear it!
What does freedom mean to you? Be myself and make up my own story. I need to be able to release myself. It's a belief that I exist to live, and I fly inside myself with out letting reason impose anything over me. Dance. Freedom is a sanctuary of my own creation, I polish it with loyalty to my beliefs of love.

What are you dreaming of? My dreams are reality. If I I think of something I want to do or experience, I work to make it happen. I think dreams are the projection of our reality, depending on your values and beliefs. And how much energy you put in it. I live my dream right now.
Why Sundry? Quality, comfortable, color, simplicity, unique.

Check out Paola's boutique here on Instagram: @temisniekymiek

(and that means I love you in one of the oldest indigenous languages of Mexico)